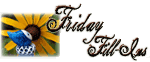 And...here we go!

1. You do your thing; I do mine and sometimes you ended up doing both, lol...thanks Honey *wink*

2. My son is what's been on my mind on and off all day.

3. Remember when we first met

.



4. My family, church, and hobby (blogging) are three of my favorite obsessions :-).

5. During the last year was a trying time for me.

6. Seeing my husband and son play and do things together

puts a smile on my face.




7. And as for the weekend, tonight I'm looking forward to see my son sleeping like a baby again after his long day at school, tomorrow my plans include take my son to church for Primary activity and then, meet the Friers for our Saturday's family get together and Sunday, I want to have a relaxing day with my family after attending church services

!