It's been awhile since I last joined this meme, and I missed it so much! Now, it's time to go back and have my share. Thanks for dropping by :-); have a great weekend everyone!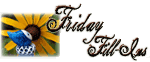 And...here we go!

1. Music
uplifts my soul
.
2. Light breakfast is what I like first thing in the morning.
3. The first thing I said this morning was: Come on, get up.
4.

Fish sticks and sweet potato fries; it's what's for dinner tonight.
5. It's all been

awhile since I last updated my new blog

.
6. Sleep is what I feel like doing right now.
7. And as for the weekend, tonight I'm looking forward to Friday night movie at the park, tomorrow my plans include

go to IKEA or go swimming and hang out with my friends at the pool

and Sunday, I want to go to church with my family!