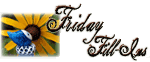 And...here we go!

1.

With all the things going on in this world it is not the end of the world.
2. Sitting here, listening to the sound of rain falling, I feel like sipping a hot chocolate with my husband.
3. My mother's homemade dishes tastes so good!
4. Sometimes, putting others first is the best thing to do.
5.

The view of a countryside

is breathtaking, really.
6. Well, maybe there is a valid reason why she/he did what he/she did.
7. And as for the weekend, tonight I'm looking forward to going to bed early with my on, tomorrow my plans include

another bonding time with my son at the park and

and Sunday, I want to

devote my time thinking about God

!

Join us by clicking the logo

.