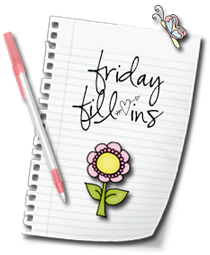 And...here we go!
1. The last thing I ate was Spicy Tofu and Boiled Egg.
2. Polo Shirt and Pants for my son is something I recently bought.
3. When it rains, it really cools the weather down.
4. Matt (my husband) was the first person I talked to today.
5. Hugs are the best way to calm me down.
6. Knowing that God loves me gives me extra comfort.
7. And as for the weekend, tonight I'm looking forward to talking with my family back home, tomorrow my plans include grocery shopping and Sunday, I want to spend a quiet time with my hubby and son!